BBS W2 ON THE MOVE: Developing a teaching and learning culture in order to promote and enhance international vocational key competences
Project (2018-2020): 2018-1-DE02-KA102-004727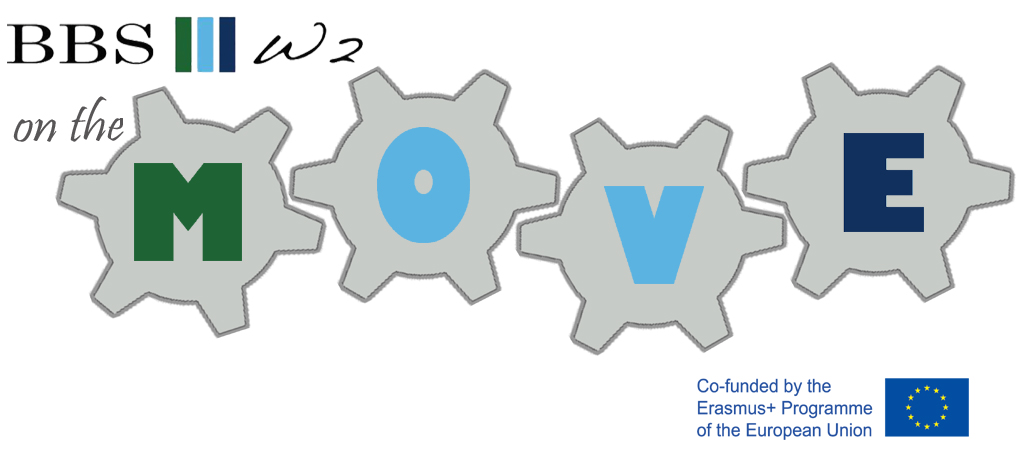 Project summary:
Berufsbildende Schule Wirtschaft II is a business VET college located in Ludwigshafen am Rhein (Germany). Together with our dual partners we offer a wide range of vocational courses to complement our students' occupational hands-on experience in trade, administration and health care. Furthermore we offer various commercial courses that provide basic vocational training, state-recognised degrees as well as higher education entrance qualifications.
International cooperation and collaboration between companies have become increasingly important in today's world of work. According to economic and technological progress prospective employees need to be equipped with international key qualifications in order to gain a foothold in the labour market and to be able to adapt to the ongoing challenges of professional change.
Therefore it is of great importance for a commercial vocational school to promote and enhance a teaching and learning culture that fosters international vocational key competences. Based on our educational curricula we would like to enhance occupational specific language skills, intercultural as well as international professional competences in particular. Moreover a globally interconnected world of work also means that future employees are additionally able to make use of digital media in a meaningful and responsible way.
Together with our partner Stage Malta we offer 13 apprentices the opportunity to do a 2-week work placement at a Maltese company. This work placement, which especially focuses on gaining international vocational competences in the above-mentioned areas, will be an integral part of their dual apprenticeship to become a management assistant in wholesale and foreign trade.
Students who attend the "Höhere Berufsfachschule" acquire general as well as professional and theoretical knowledge in commercial areas such as trade and e-commerce, office management as well as office communication and languages. A successful graduation leads to a state-recognised vocational degree as well as to a higher education entrance qualification. During the 2-year full-time vocational course students are also supposed to do a work placement in order to gain practical knowledge. Due to this we also offer 2 students to do a 2-week work placement to gain vocational intercultural hands-on experience at the school shop and practical training centre at our partner school Tietgen in Odense (Denmark).
The implementation of a teaching and learning culture that fosters international key competences also requires the broadening of pedagogical teaching methods that include the appropriate use of digital media. This will be realised in 2 job shadowing programmes which will be carried out at our partner school Tietgen. Our teaching staff will get to know practical teaching methods and concepts that also offer individual learning.
In order to include international key qualifications in lessons we would like to join the EMEU network (Engineering Mobility in Europe - http://em-eu.eu/). Together with our Dutch partner ROC Horizon College we will develop a series of lessons for our retail apprentices in which foreign students can participate and acquire an additional qualification. A successful accession to the EMEU network also means that we actively incorporate international skills in our school curriculum. Moreover we will be able to send our students to other schools in that network to acquire additional qualifications.
Above all we would also like to secure the quality programme of our school. Therefore new ideas and trends in vocational education and training are of great importance as well. Our Vice Principal and Director for Educational Affairs will attend the next EfVET conference in Italy in October 2018 (http://www.efvet.org/). EfVET provides a platform in order to strengthen vocational education and training throughout the EU. On the annual conference current trends and problems but also solutions will be discussed. These aspects shall be incorporated in our quality programme.
All the above-mentioned activities will provide the basis of establishing a teaching and learning culture throughout all levels of our organisation. In this way we expect an increase of our students' international vocational, cultural as well as language competences, and therefore these experiences will pave the way for a successful start into a professional future. The preparation and support of student mobilities, collaboration with our European partners plus the use of contemporary teaching and learning environments will strengthen the modern and international profile of our school.
Angelika Winkelhardt (Erasmus+ Coordinator)
May 2018