Berufsbildende Schule Wirtschaft II is a business VET college located in Ludwigshafen, Germany.
Together with our dual partners we offer a wide range of vocational courses to complement our students' occupational hands-on experience in trade, administration and healthcare. Furthermore we offer various commercial courses that provide basic vocational training, state recognised degrees as well as higher education entrance qualifications. For more information please read
"Training possibilities at BBS W2".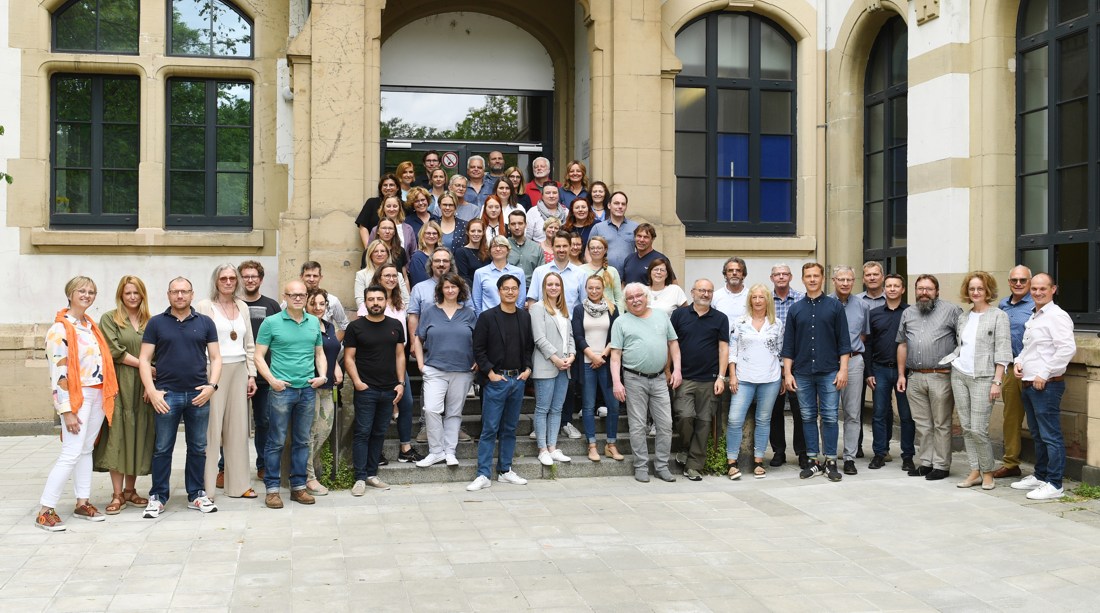 Currently about 2,000 students are trained at our sites on Bismarckstraße, Maxstraße and Schulstraße in Ludwigshafen by 81 teachers.
Acquiring professional knowledge in Business Studies and languages is of great importance as this provides the basis for our students' professional future. We particularly focus on contemporary teaching and learning approaches in order to prepare our students for the requirements of modern workplaces.
As digital media play such a decisive role in our students' professional and private lives we have successfully implemented a concept that promotes (digital) media literacy across our courses. Therefore, our classrooms are equipped with interactive whiteboards and partly with laptops/computers which provide interactive student-oriented learning environments.
On 31 January 2022 BBS Wirtschaft II took a step into a new digital era. Thanks to the cooperation with our local school authority, the city of Ludwigshafen, and the commitment of many dedicated teachers, a complete full-time VET class could be equipped with tablets. The devices were fully configured for classroom use and equipped with modern teaching applications. The goal of this project is to prepare for the widespread use of mobile devices in our future full-time upper secondary VET classes. Every new student should have the opportunity to be taught in a modern digitalised class.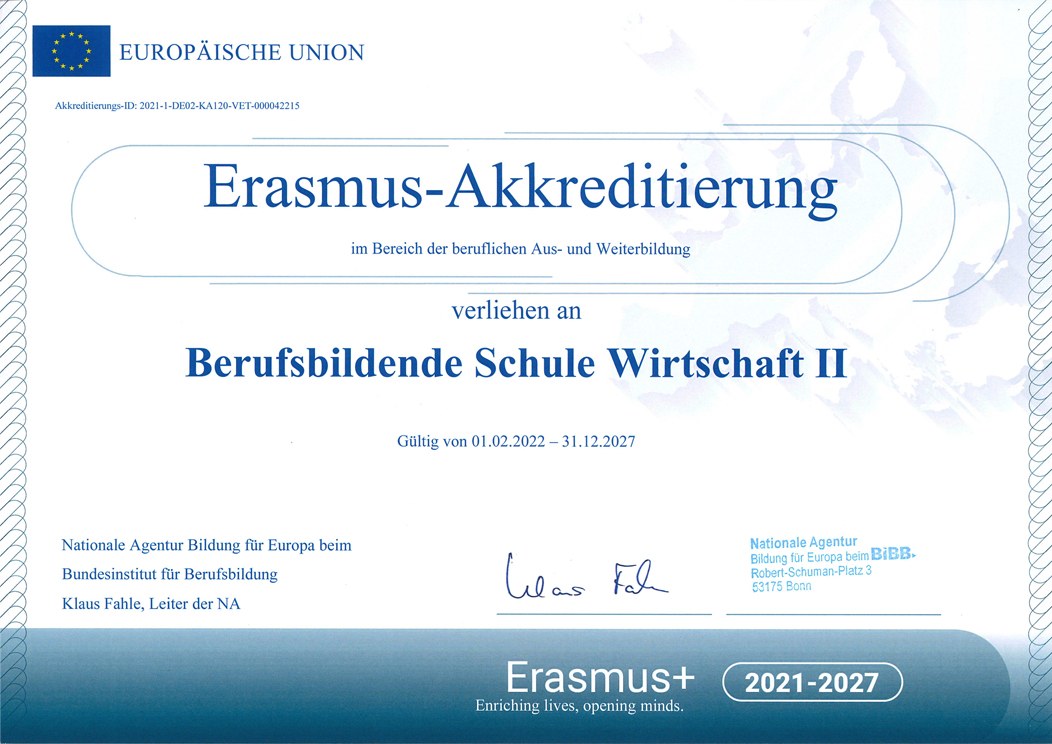 Additionally, we actively promote international vocational key competences by providing international work experience in order to meet the demand of international business collaboration in today's world of work. Since 2018 BBS Wirtschaft II has made it possible for its learners to apply for the school's own programme "BBS Wirtschaft II on The Move" to gain Erasmus+ funded professional experience abroad. The programme of the European Union promotes learning and cooperation in Europe in the fields of education, youth and sport. Erasmus+ provides financial support for learners who want to do an internship in another European country. As students should benefit from this unique opportunity in the long term, BBS Wirtschaft II successfully applied for the Erasmus accreditation in 2022.

FLTR: StD Jürgen Klein (ICT Manager), StD Gernot Webel (Vice Principal), StD Markus Hüttel (Dept. Manager for Trade and Administration), OStD' Marion Zehmisch (Principal), StD Benjamin Schwarz (Dept. Manager for Health Care), OStR' Laila Staub (Vice Principal and Director for Educational Affairs), StD Gerhard Mayer (Dept. Manager for Vocational Education).
For more information please contact our principal:
Ms Marion Zehmisch: This email address is being protected from spambots. You need JavaScript enabled to view it.